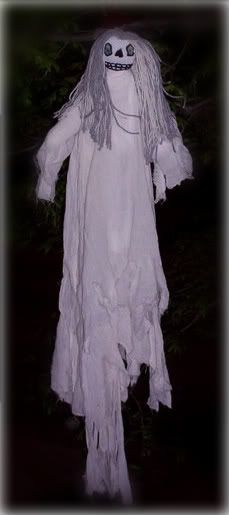 My first attempt at dolls. The purple & black doll is the rockstar fairy, she has purple stars around her eyes and the other is a Halloween fairy with vampire teeth, mismatched crazy button eyes and uneven eyebrows (all done on purpose, believe it or not). Their faces were decorated with embroidery and felt. Both have black wings that are not shown that were made of a black spiderweb lace.
The Banshee was made from a sock. I thought I would try my hand at a different version of the sock monkey and make a sock skeleton/ghost/banshee. Her face is decorated with embroidery and felt.
All of these were a pain in the ass to make and I have nothing but the utmost respect for those that make plushes or dolls. These are just the beginning though. I plan to make more as they could be fun to make without a time constraint and when I am actually feeling well.